A Riverhead commercial property sold in a staggering nearly $70 million deal last month.
The Riverhead Centre, home to ShopRite, Best Buy, Home Depot and more, closed at $69.35 million on April 19, 2023, according to Suffolk County deed transfers available this week.
The transaction for at 1430-1550 Old Country Road, also known as Route 58, could easily end up being the biggest commercial transaction of the year.
JLL Capital Markets, a New Jersey-based firm specializing in real estate and investment management, announced the sale of the property boasting nine buildings and 395,000 square feet of space.
"The demand for well-located, grocery-anchored retail continues to remain strong in the suburban New York area," says Jose Cruz, who led the JLL team with Kevin O'Hearn, J.B. Bruno and Mark Belenky. "Investors liked Riverhead Centre given the stability of the cash flow as well as the future upside rent growth," he added.
JLL represented the seller, which it identified as AFL-CIO Building Investment Trust, advised by PNC Realty Investors, and procured the buyer, Prestige Properties & Development Company Incorporated. Suffolk County deed transfers show the new owners listed as a limited liability company called Riverhead Centre Owners.
"Prestige Properties specializes in the acquisition, development and management of institutional-quality retail assets," said CEO of Prestige Properties, Sam Shalem, in a statement.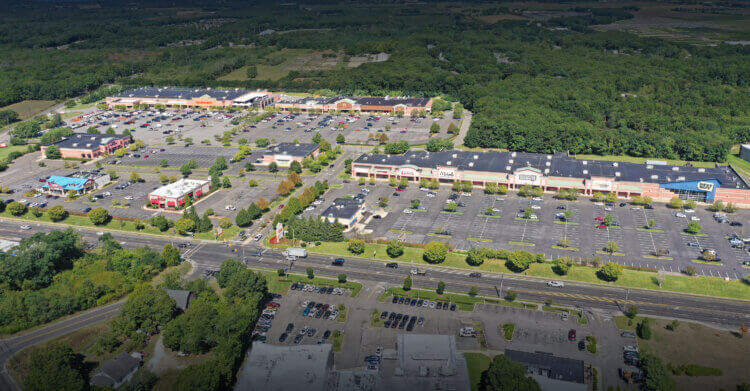 The company has more than 6.5 million square feet of retail properties in New York, New Jersey, Pennsylvania, Massachusetts, Connecticut, North Carolina and Florida.
The Riverhead shopping center is anchored by the ShopRite grocery store, which replaced Waldbaums in 2018 and has a long-term lease.
JLL also says that the center is 99% leased — though one has to wonder what will happen to the Bed, Bath & Beyond space since news all stores are closing (A&G Real Estate Partners will auction Bed Bath & Beyond leases as part of the company's Chapter 11 cases).
Built in 2003, the 50-acre property consists of 82% national tenants. Home Depot is amongst the longest tenants, leasing space for the last 20 years. According to placer.ai, it yields 910,000 annual visits.
Other tenants include Petco, Michaels, DSW Shoe Warehouse, Famous Footwear, Barnes & Noble, Ashley Home Store and IHOP.
The property was purchased free and clear of any existing financing, JLL says.
The Riverhead Centre sits at a signalized intersection with approximately 2,003 feet of frontage along Old Country Road with about 31,000 vehicles traveling by each day, according to the statement.
Other large commercial sales so far this year include an East Hampton building, sold by the designer Elie Tahari and his son for $22 million. The property at 1 Main Street was acquired by Bernard Arnault, the French billionaire businessman who is, according to Forbes, the richest person in the world, and is chairman and CEO of the French conglomerate LVMH Moët Hennessy Louis Vuitton.
The top commercial transaction on the East End last year was the $77.5 million sale of Marram Montauk, a 96-room boutique hotel on the ocean.
Also in 2022, 1414 Old Country Road in Riverhead, which borders the Riverhead Centre, sold for  $14,777,000. The freestanding 55,000-square-foot building is home to Hobby Lobby and sits on a 12.08-acre parcel.
Email [email protected] with further comments, questions or tips. Follow Behind The Hedges on Twitter, Instagram and Facebook.